bloomington township, Monroe County, indiana
NOTICE - 17TH STREET IS UNDER CONSTRUCTION
17th Street is currently one-way westbound from Maple Street to the traffic circle at the intersection of N. Monroe Street, W. Arlington Road, and W. 17th Street. To visit our office from the west of our location, please follow the posted detour signs. The construction is directly in front of our office and our entrance on 17th Street is periodically closed. Additional parking is available behind the building when needed.
ATTENTION - APPOINTMENTS ARE BOOKING OUT IN ADVANCE
Rent and utility bills should be paid each month. If you have not made a payment toward your rent or utility bill for the month it is due, you should contact us immediately. If you wait to seek assistance, it is possible that an eviction will be filed and/or your utility service will be disconnected before an appointment is available.
CLOSINGS
The Township office and food pantry will be closed Monday, October 9, for the fall holiday.
HOURS OF OPERATION
Please call 812.336.4976 to schedule an appointment or food pantry pick up. Office hours: 9:00 a.m. - 3:00 p.m. daily, excluding weekends and holidays. Food pantry hours: 10:00 a.m. - 3:00 p.m. daily, excluding weekends and holidays. Please note that the office and food pantry are closed from 11:30 a.m. - 12:30 p.m. on Tuesdays.
If you are experiencing a hardship and are a resident of Bloomington Township, the Trustee may be able to help you. In order for us to assist, the following requirements must be met:
Must be a resident of Bloomington Township
Must have proper picture identification
Must be at least 18 years of age
Must cooperate with the Township's investigation of your circumstances by providing information and signing an application
Must apply for any and all other public assistance programs for which you may be eligible
Must seek assistance from your family
Click here to find out how to start the process to get assistance, confirm you are eligible, and if you may qualify.
The Township maintains a food pantry for eligible residents. Please call 812-336-4976 to schedule your pick up.
Next meeting: Thursday, October 12, 2023, 4:30 p.m. 924 W. 17th St., Suite B, Bloomington, IN, or via Zoom by clicking here and using passcode 867423.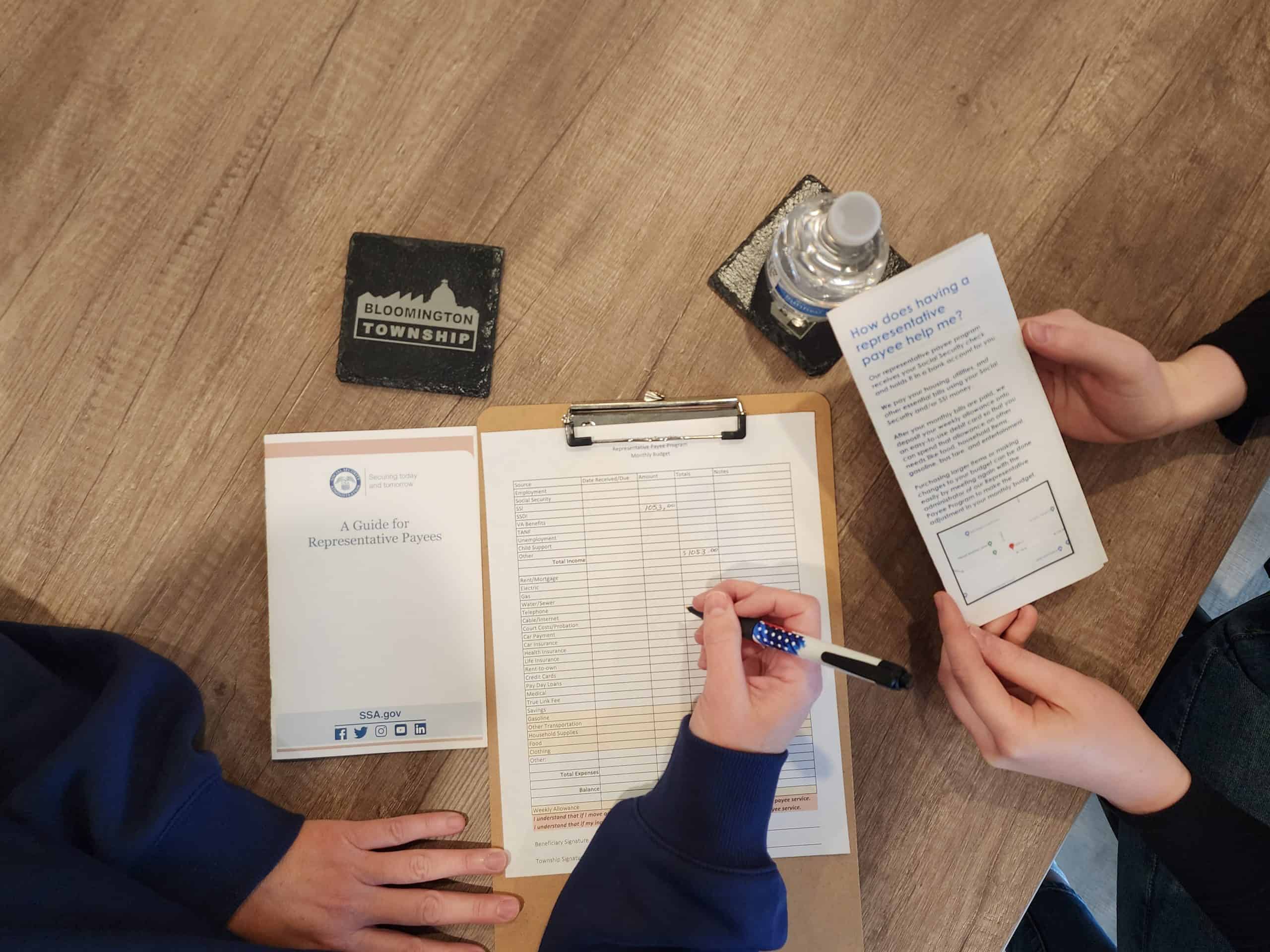 Bloomington Township recently added another Social Security Administration (SSA) beneficiary to its Representative Payee Program.  Started in the fall of 2022, the …
(Entrance faces 17th St.)
924 W. 17th St., Suite C
Bloomington, IN 47404
Phone: (812) 336-4976
Fax: (812) 335-8993