We're a local government office providing relief, support, and connection to township residents in need, through a variety of services and through collaboration with other community organizations.
We strive to:
Enhance the quality of life for all in Bloomington Township
Be accessible, compassionate, and professional
Provide a strong safety net, as well as a vehicle for neighbors helping neighbors, in our community
Be efficient and responsible stewards of public dollars
Maintain and preserve the history of Bloomington Township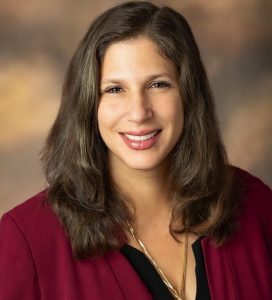 Bloomington Township Trustee
Efrat Rosser serves as the current Trustee of Bloomington Township, having been elected to the office in 2022. A 22-year resident of Monroe County, Rosser's educational background includes receiving a Bachelor of Arts from Indiana University and a Master of Public Administration from the University of Arizona. She has spent her career in local government and nonprofit leadership, including prior roles as Assistant Director of Finance for the City of Bloomington Utilities and Executive Director of United Way of Monroe County. She has also volunteered on public boards and commissions including leadership roles with Monroe County's Women's Commission and Redevelopment Commission.
Rosser is passionate about effectively and compassionately serving the public, and working collaboratively in the community towards improved shared outcomes. She is a mother to two amazing teens, and a wife to Chef Lee, residing in Tamarron Heights.
Elected Officials
Efrat Rosser, Trustee
Dorothy Granger, Board Member
Barbara E. McKinney, Board Member
E. Sensenstein, Board Member
Staff
Lisa Myers, Deputy Trustee
Elizabeth Lopez, Senior Case Investigator
Cara Escobedo, Case Investigator
Kay Young, Representative Payee Program Administrator

Annie Carter, Administrative Clerk
Sydney Wilson, Intern
Karen Nuku, Intern
Next meeting: Thursday, October 12, 2023, 4:30 p.m. 924 W. 17th St., Suite B, Bloomington, IN, or via Zoom by clicking here and using passcode 867423.
We have board meeting minutes, agendas, township guidelines, as well as other documents organized and accessible to all.
Click here to find out how to start the process to get assistance, confirm you are eligible, and if you may qualify.
(Entrance faces 17th St.)
924 W. 17th St., Suite C
Bloomington, IN 47404
Phone: (812) 336-4976
Fax: (812) 335-8993